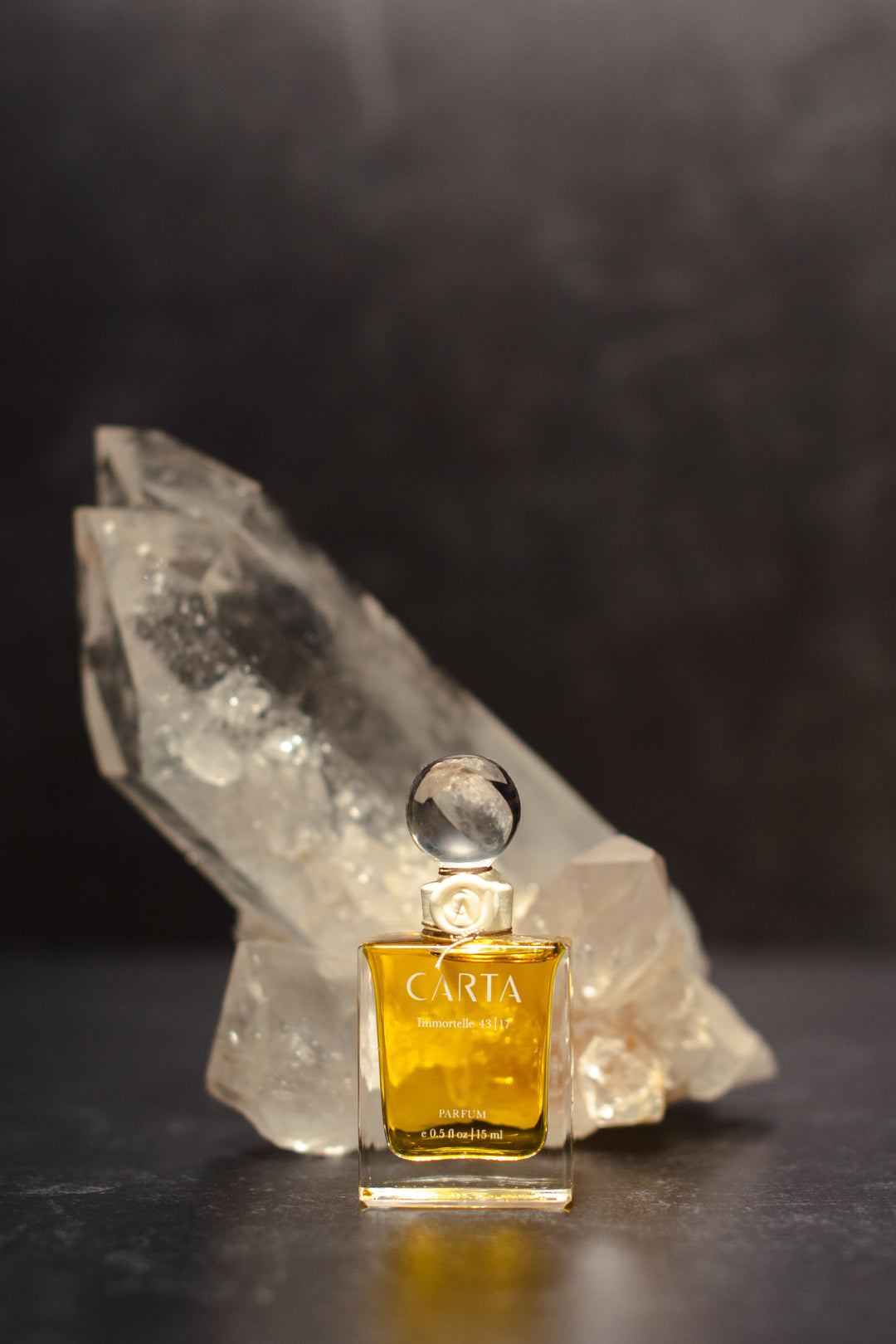 Carta Fragrances Immortelle 43 | 17 Parfum
Low stock - 2 items left

Inventory on the way
Available for shipping!

Carta's artisanal pure parfums are crafted from the highest quality ingredients that delight the senses and are kind to both body and Earth. Each parfum features a signature essential oil personally sourced by company founder Heather D'Angelo, under the close guidance of advisors and organizations committed to ethical, sustainable, and regenerative practices. Each parfum is blended and bottled by hand and in small batches to ensure freshness.

Carta's newest offering, Immortelle 43 | 17, features Immortelle, a bewitching essential oil steam-distilled from the Helichrysum italicum blossoms. The numbers correspond to the geographical coordinates from where the oil is sourced — the Dalmation Coast at 43° North, 17° East.
The essential oils in this pure parfum were sourced from two small family-owned farms in Bosnia Herzegovina and on the island of Hvar, in Croatia. The helichrysum italicum plants were sustainably cultivated and harvested, with reverence for maintaining the biodiversity, ecological balance, water resources, and soil quality of their respective regions. Immortelle's intoxicating aroma is a heady balm, an elixir that conjures feelings of radiance, buoyancy, and vitality.
A portion of the proceeds from all Carta sales is returned to Camino Verde, the only organization in the world distilling Moena Alcanfor, the essential oil featured in Carta's debut fragrance, Moena 12|69. Learn more about Camino Verde's work to reforest the Peruvian Amazon HERE.

MATERIALS
• Ingredients: Organic Grain Alcohol, Parfum (organic essential oils, absolutes, CO2 extracts, and safe aroma molecules)
VOLUME
15ML (.5 fl oz)
ABOUT THE MAKER

Carta was founded in 2017 by Heather D'Angelo, a San Francisco-based perfumer, musician (with the band Au Revoir Simone), and ecologist. The dream for Carta originated while she was collecting botanical samples from the Malaysian rainforest as part of her research at Columbia University. After several years of working with plant-based aromatic compounds, she developed an understanding that scent, like music, is a transportative instrument. Both have the arcane power to suspend moments and places in time. The line, named after the Italian word for map, reflects the spirit of linking scent and place.
With Carta, D'Angelo explores the artistry of perfume, influenced by her background in musical composition and scientific inquiry. Rooted in her passion for environmental conservation, D'Angelo's romance with scents is shaped and driven by a commitment to conscious practices and a desire to share the stories behind Carta's ingredients.
We currently offer shipping to the lower 48 United States only. We take every precaution to carefully package your items for safe transport.
Shipping orders are packaged within two days of order.
All plant orders are shipped using USPS Priority Mail to assure that they spend no more than three days in the mail.

For more information about shipping visit our FAQ.