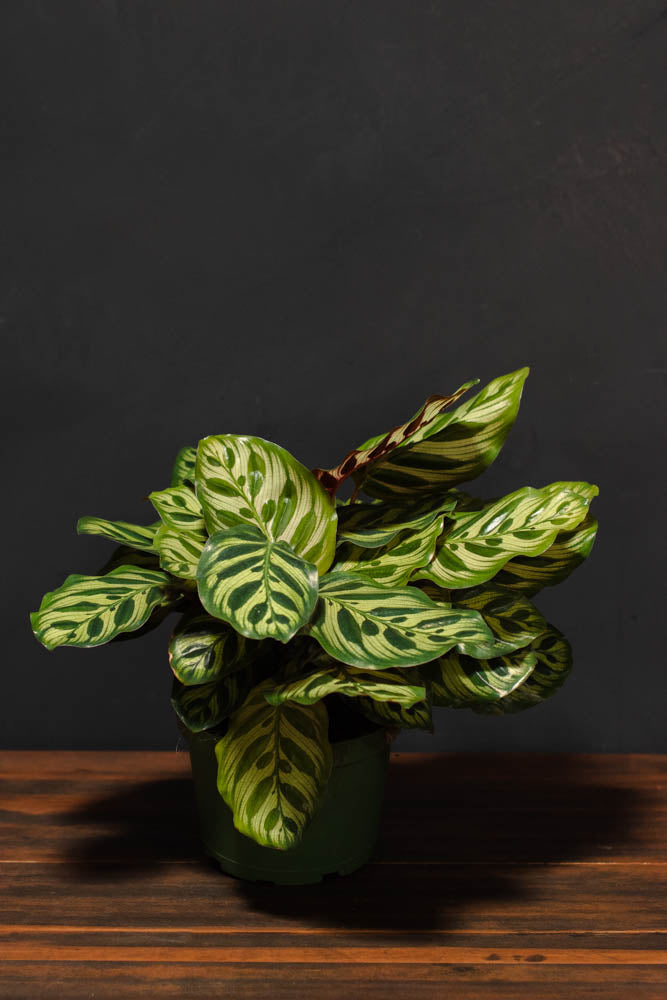 Calathea - Makoyana
In stock, ready to ship

Inventory on the way
Available for shipping!

Calatheas are known for their unique prayer-like leaf movement and show-stopping foliage patterns. The 'Makoyana' is a house favorite with its unbelievably gorgeous contrasting green and purple-ish leaves that have an almost painted stained glass appearance. Indigenous to South America, these plants are accustomed to a humid lower light environment, making them especially adaptable to living in our homes as a houseplant.
Light: Calathea thrive in bright, indirect light, though you should avoid placing in direct sunlight to prevent leaf discoloration and sunburn. Paling and curling of the leaves can be an indication of too much direct sun.
Water: Make sure to keep your plant evenly moist, but not soggy or overwatered. Yellowing of the leaves and stems is a good indicator to pull back on your watering schedule, while curling of the leaves is an indication that your Calathea might need a more frequent drink. 
Humidity: The main trick with Calathea is to maintain a warm, humid environment. We recommend adding a humidifier to your daily plant routine.
This item is pet friendly.
Photographs are representative of the species and not always the specific plant shipped. Normal variations in size, pruning and leaf structure may occur.  
All plant sales are final.
We currently offer shipping to the lower 48 United States only. We take every precaution to carefully package your items for safe transport.
Shipping orders are packaged within two days of order.
All plant orders are shipped using USPS Priority Mail to assure that they spend no more than three days in the mail.

For more information about shipping visit our FAQ.