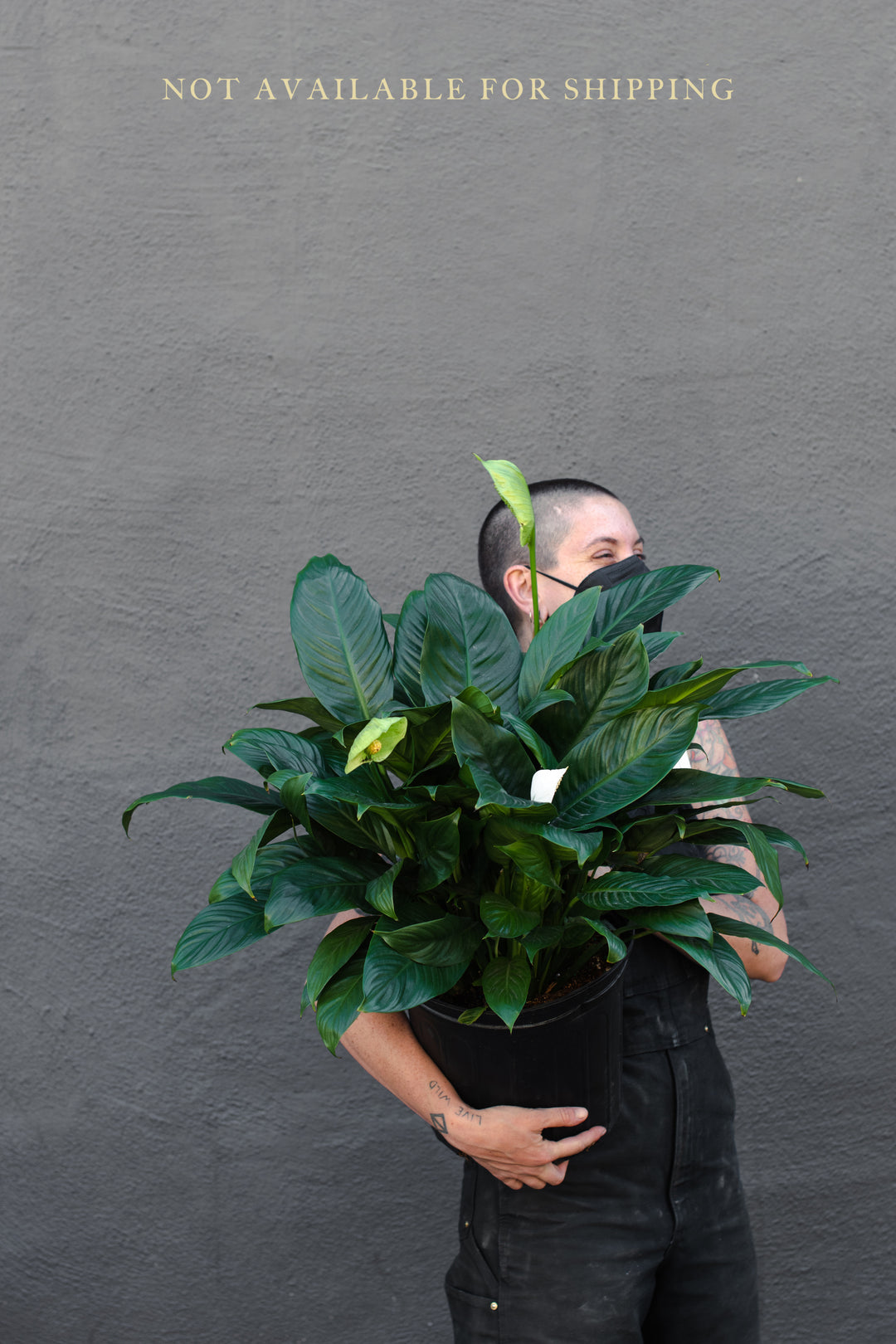 Large - Spathiphyllum "Peace Lily"
Available for Oakland Pickup
Not available for shipping.
In stock, ready to ship

Inventory on the way
Not available for shipping.
Spathiphyllum "Peace Lily" are one of our favorite go-to plants for customers who have medium to low light conditions in their space, but are looking for some leafy, flowering foliage with a big impact! Perfect in all sizes, from dainty desktop accent to big boy floor plant, Peace Lily are noted for their ability to eventually grow up to four feet tall and four feet wide!
Light: Also nicknamed the "Closet Plant", Peace Lily are incredibly tolerant of low light conditions, though – like all houseplants – they prefer filtered bright sun. Keep out of direct sunlight to avoid wilting and leaf discoloration.
Water: Peace Lily prefer for their soil to dry at least 3" down between waterings. Watch for the leaves to start drooping a bit as a sign that the plant is thirsty for a drink! If you notice that the Peace Lily's foliage has drooped dramatically, give your plant a thorough watering and watch as it pops right back up into healthy position!

Humidity: Peace Lily prefer humid conditions, though they can tolerate a space with only moderate humidity. We suggest running a humidifier if your space is especially dry.
If ingested, poisonous to humans and pets.
Photographs are representative of the species and not always the specific plant shipped. Normal variations in size, pruning and leaf structure may occur.
All plant sales are final.
Pickup Policies

All online orders are fulfilled at our Piedmont Avenue location at 4268 Piedmont Ave within two days of receipt. We will contact you in case your order will be delayed!

You will receive an e-mail notification once your order is ready to be picked up.